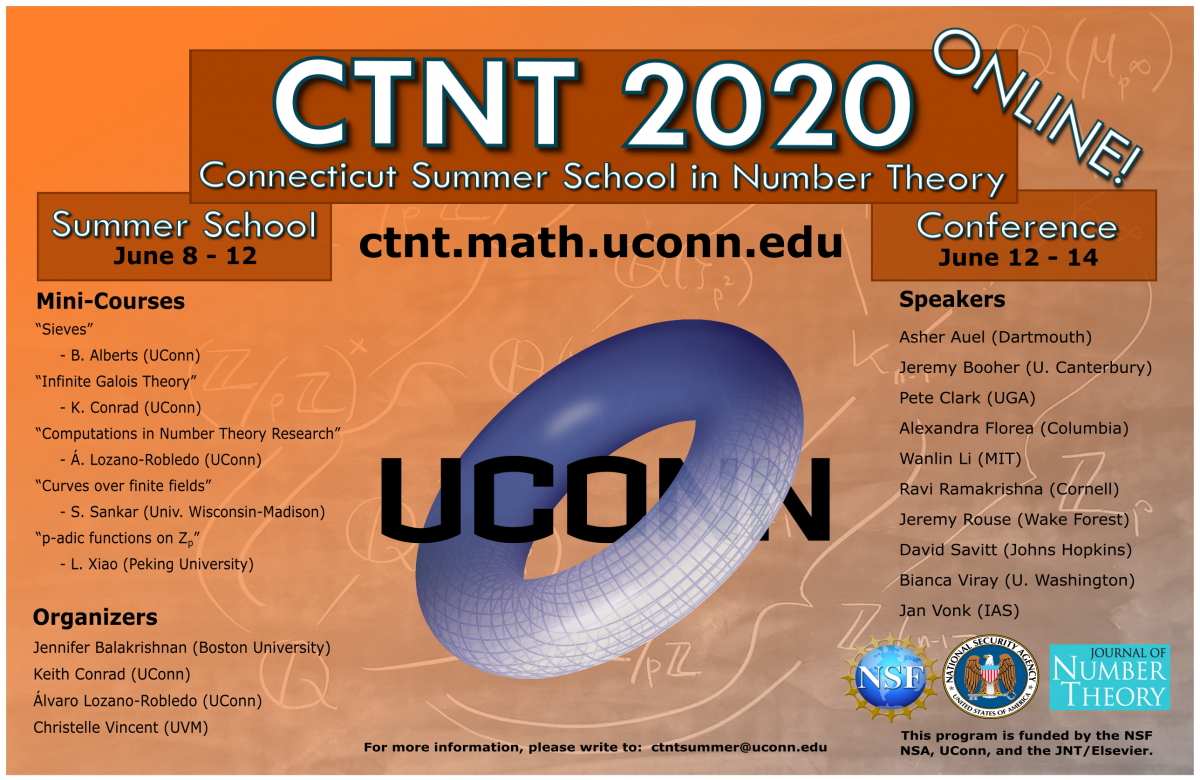 The CTNT 2020 Conference (June 12-14, 2020) will be entirely online, and it will feature research talks on arithmetic geometry, number theory, and related topics. The goal is to bring together experts, postdocs, and students from arithmetic geometry and number theory. We hope this will stimulate mathematical discussion among the conference participants and summer school students. The students attending the summer school preceding the conference will be invited to attend the conference. The talks will give them a sense of contemporary research themes in number theory.
REGISTRATION LINK. Registration is free, but necessary to receive the video conferencing links for the talks. There are a few spots available for additional speakers — please register by May 20th if you would like to be considered to give a talk during the conference. If you completed the registration for the Summer School already, you do not need to complete the registration form for the conference.
Please register by June 11th, 6pm EST, to receive the links to the video conference.
List of confirmed speakers (more added as we get confirmations):
Asher Auel (Dartmouth)
Jeremy Booher (University of Canterbury)
Pete L. Clark (University of Georgia)
Alexandra Florea (Columbia)
Wanlin Li (MIT)
Ravi Ramakrishna (Cornell)
Jeremy Rouse (Wake Forest)
David Savitt (Johns Hopkins)
Bianca Viray (University of Washington)
Jan Vonk (IAS)
Warning: we have received reports from conference speakers of a scam requesting their credit card information for travel arrangements (from a service called "eHotel").  Participants should consider all such requests fraudulent unless coming directly from one of the organizers.
Group Photo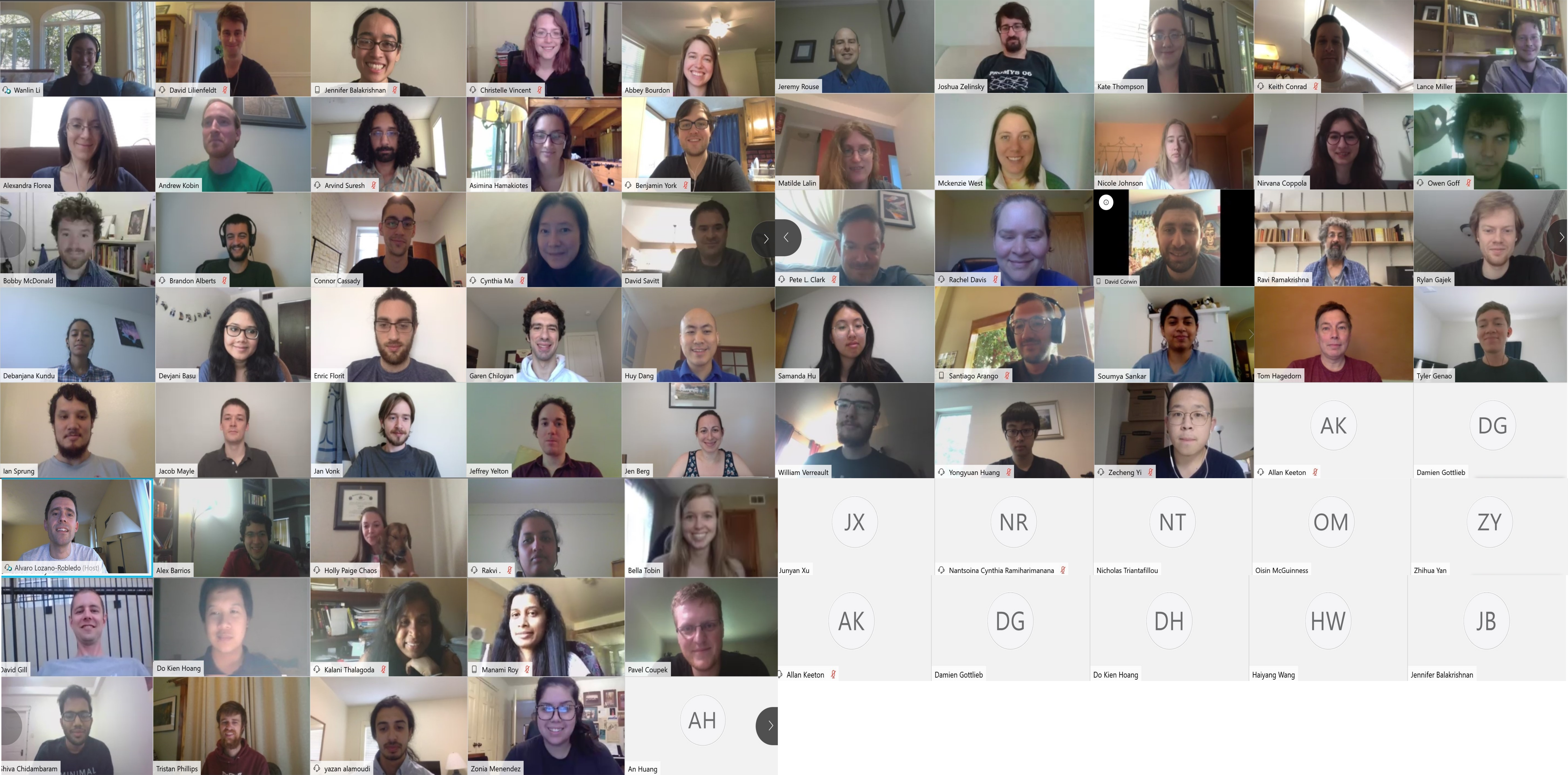 Titles, Abstracts, and Code of Conduct
Schedule of LIVE Events (see below for recorded talks) –
US/Eastern (UTC -4)

: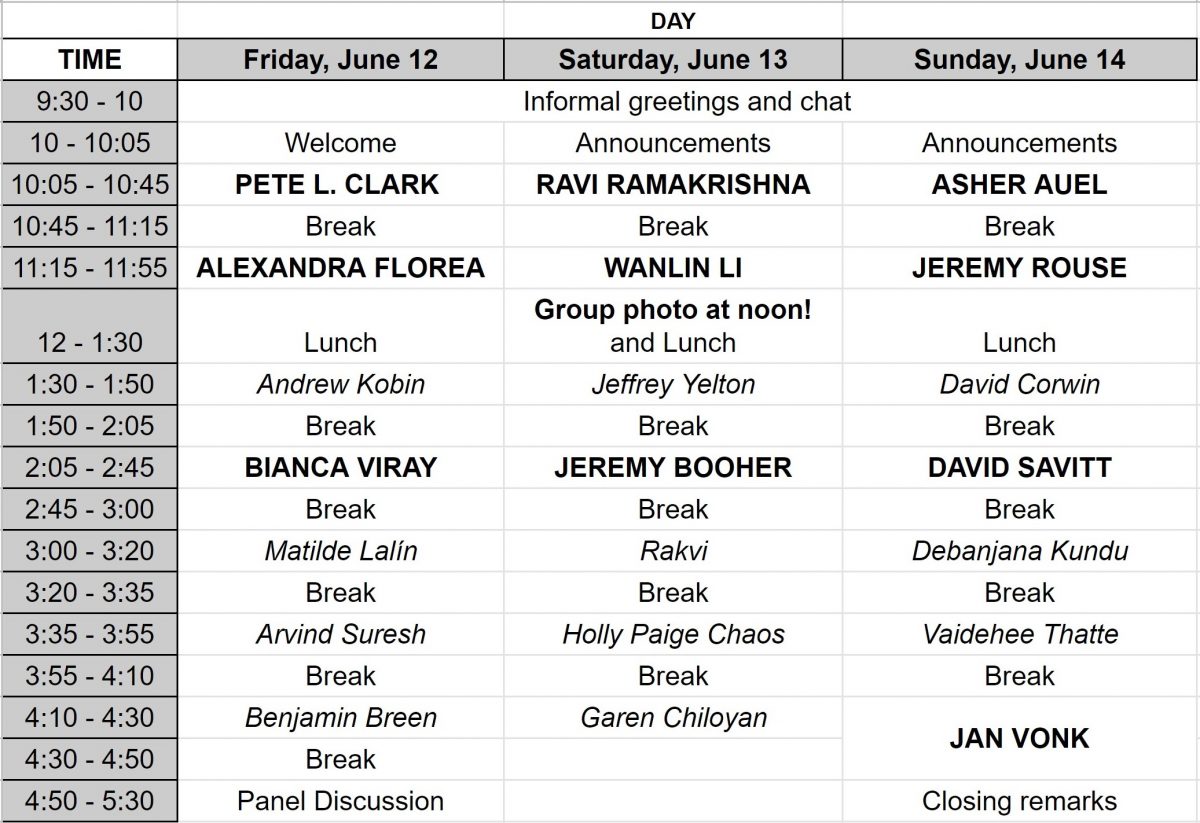 Videos as they become available:
Slides as they become available:
Note: the panel discussion is on applying to grad school, choosing a program, getting started in number theory, choosing an area of research, choosing an advisor, etc.
Pre-Recorded Contributed Talks (links to the videos will be made available soon):
Santiago Arango Piñeros (Emory): The Global Field Euler Function (Video)
Elisa Bellah (U. Oregon): Norm Form Equations and Linear Divisibility Sequences (Video)
Caleb Springer (Penn State): The Structure of the Group of Rational Points on an Abelian Variety over a Finite Field (Video)
Joshua Zelinsky (Hopkins School): Upper Bounds in Integer Complexity (Video)