The conference will feature research talks on elliptic curves and modular forms, including recent developments in the theory of mock modular forms and rational points on elliptic curves.
Tentative Schedule: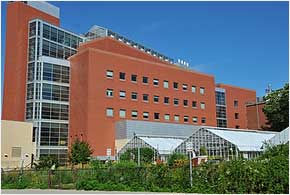 All talks will be at the Biology Physics Building (BPB 130 and 131), and registration, and the coffee breaks will be outside of BPB 130. A campus map pointing to BPB can be found here (Google labels the building as the "School of Pharmacy").
Slides and other resources from the talks can be found below next to the speaker names.
List of (confirmed) Speakers:
Plenary Talks
1.  Nick Andersen, University of California, Los Angeles
2.  John Bergdall, Boston University
3.  Bill Duke, University of California, Los Angeles
4.  Michael Griffin, Princeton University
5.  Kiran Kedlaya, University of California, San Diego – LMFDB.org
6.  Jeff Lagarias, University of Michigan
7.  Ling Long, Louisiana State University – Slides
8.  Ken Ono, Emory University – Slides
9.  Rachel Pries, Colorado State University – Slides
Contributed Talks
10.  Luca Candelori, Louisiana State University – Slides
11.  Michael Chou, University of Connecticut
12.  Rachel Davis, Purdue University – Slides
13.  Ozlem Ejder, University of Southern California
14.  Wade Hindes, The Graduate Center, CUNY
15.  Daeyeol Jeon, Kongju National University
16.  Edmund Karasiewicz, Rutgers University
17.  Chang Heon Kim, Sungkyunkwan University
18.  Eren Mehmet Kiral, Texas A&M University – Slides
19.  Shenhui Liu, Ohio State University
20.  Jeffrey Manning, University of Chicago
21.  Christine McMeekin, Cornell University – Slides
22.  Antonella Perucca, Universitat Regensburg
23.  Rufei Ren, University of California, Irvine
24.  Holly Swisher, Oregon State University – Slides
25.  Hui Xue, Clemson University
26.  Dong Sung Yoon, KAIST
27.  Fan Zhou, Ohio State University